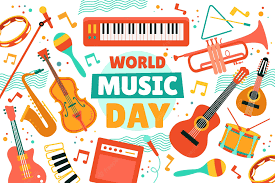 23 June 2022
On Tuesday 21st June we celebrated World Music Day. Over 120 countries join in with this day every year and on Tuesday, we had a day enriched with musical activities right through school.
It is a day to share our love of music, enjoy performances, and listen to the music that makes us feel good.
Our concert was made up of a variety of performances from across school. There was an amazing range of talent shown throughout the afternoon. From piano skills, whole class performances to singing in Spanish.
We have taken a variety of photos throughout the day of all the musical things we got up to. They can be found in the gallery below. More photos to be added soon.
Music- World Music Day- Whole School- Summer Term